Bonne Femme Watershed Project
The implementation phase of the Bonne Femme watershed Project is starting soon! Please stay tuned for updates to this website as we move forward in the implementation process.
For more information about the Bonne Femme Watershed plan, click here.
NEW! Do you live or recreate in the Greater Bonne Femme Watershed? Please take our survey here.
Mission
Use watershed planning as a tool to prevent further water resources degradation in order to maintain their long-term quality within the Bonne Femme watershed.
Vision
In the year 2030, we envision a watershed where quality of life and economic vitality are fostered by maintaining or improving the current conditions of the water resources, having a mix of land uses and development types, and maintaining thriving agricultural activities.
Project Goals
Help Boone County, and the Cities of Ashland and Columbia, adopt policies and procedures that will protect the streams in the watershed;
Assist developers and builders in adopting best management practices (BMPs) that will help protect the streams' integrity;
Provide cost-share assistance for land owners in the watersheds to implement practices that will protect and restore the streams.
In June of 2003, Boone County was awarded a 4-year grant from the Environmental Protection Agency, through the Missouri Department of Natural Resources. A multi-faceted approach is being taken to address various stream-related issues in the Bonne Femme watershed. For more info, click here.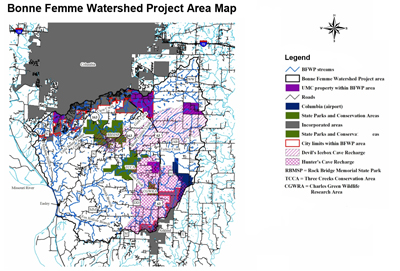 For larger image, click here.
Heroes of Watershed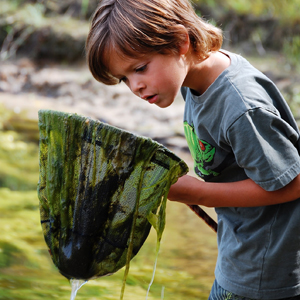 The community plays an important role in protecting the Bonne Femme Watershed. Find out how some in the community have been deemed Heroes of the Watershed.
Quarterly Spotlight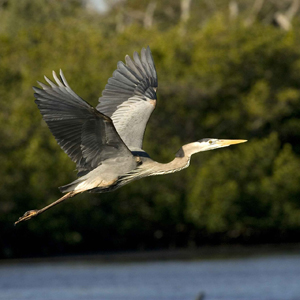 Check out our Quarterly Spotlight to see the latest feature in watershed conservation efforts.
Current Bonne Femme Climate Conditions
Wind Speed: 3 mph
Gust Speed: 6 mph
Wind Direction: SSE 153°
Temperature: 69.08 °F
Relative Humidity: 87.50 %
Rain: 4.338 in
Dew Point: 0.00 °F